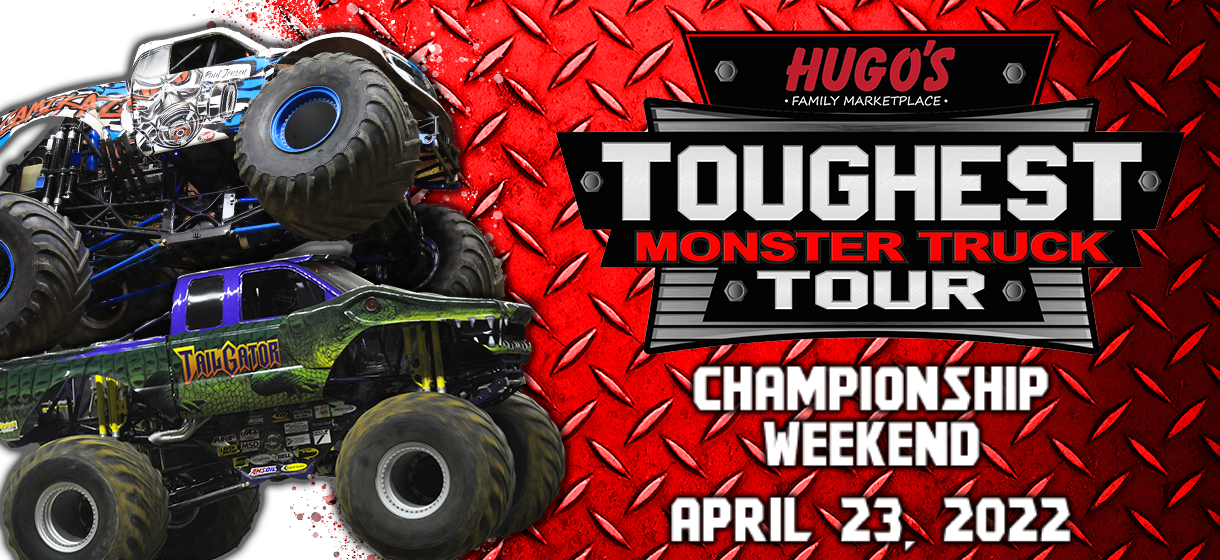 Hugo's Toughest Monster Truck Tour
Hugo's Toughest Monster Truck Tour
Event Information
The Hugo's Toughest Monster Truck Tour Championship Weekend is returning to Alerus Center April 23rd, 2022. Tickets go on sale to the public this Friday, November 26. All tickets are $5 off and include a free Pit Pass (a $10 value) through November 29. Visit aleruscenter.com and join the Alerus Center Cyber Club to get early access to tickets.
"We are beyond excited to bring this event to back to North Dakota, especially since this is the event that the drivers work toward the entire year. This event determines who will be the 2022 Toughest Monster Truck Tour Champion," said Kelly Hess Goldman, the event promoter. "This year's line-up will include former Toughest Monster Truck Tour Champion Bigfoot, driven this year by Brandon Budd, plus many other strong competitors including Dirt Crew, driven by Jerry Beck who usually places in the top three, Quad Chaos driven by former Monster Jam Scooby Doo driver Bailey Shea, Kamikaze driven by Zach Jensen, Jurassic Attack, driven by Dalton Widner, and the return of Tailgator which is now owned and driven by Tim Jones."
In addition to monster trucks, the high-flying tricks and stunts of the daredevil Freestyle Motocross team will also be featured.
To celebrate the return of monster trucks to Alerus Center, all Hugo's Toughest Monster Truck Tour tickets will be $5 off and all tickets purchased, regardless of price level, will come with a free pit pass during the pre-sale this Tuesday through Thursday, November 25. The same deal will also be available during the Early Bird Offer from this Friday, November 26 through Monday, November 29th with no special code needed. This is the best deal that will be offered.
The Pit Pass gets fans in early to walk on the dirt track, see the trucks up close, get autographs from the drivers and take photos. After November 29, pit passes will be free at Hugo's locations or can be purchased for $10. The Hugo's Toughest Monster Truck Tour begins at 7:00pm on Saturday, April 23. The Pit Party will take place from 4:30pm-6:00pm. Tickets are available at www.toughestmonstertrucks.com and at Alerus Center.
For information and reviews about the Hugo's Toughest Monster Truck Tour Championship Weekend, visit the Toughest Monster Truck Tour Facebook page or www.toughestmonstertrucks.com.