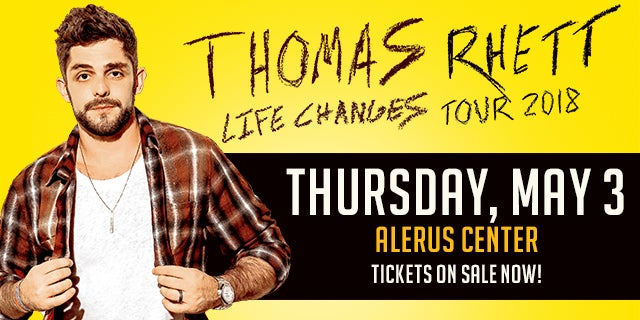 Thomas Rhett
Thomas Rhett
Event Information
Thomas Rhett to bring his Life Changes tour to Alerus Center on Thursday, May 3. Thomas Rhett will be joined by special guests Brett Young and Russell Dickerson.
Tickets are on sale now and available at the Alerus Center Box Office, Ticketmaster.com, or by calling 800-745-3000.
Thomas Rhett scored his first No. one hit in 2013 with "It Goes Like This," introducing a sound that mixed the southern swagger of county music with pop hooks, R&B grooves, soulful strut, and the anything-goes attitude of rock. During the years since, he's become a husband. A father, too. And, thanks to eight chart-topping singles, a headliner of massive arenas. It's funny how life can change so much in such a short period of time.
Life Changes captures that whirlwind period. Recorded while Thomas Rhett and his wife, Lauren, were in the middle of adopting their daughter from Africa and awaiting the birth of their second child, it's the biggest, boldest-sounding record of his career, filled with songs that stretch his sound to new limits. Kicking off the album is "Craving You," a driving, danceable pop anthem filled with '80s-inspired production and guest vocals for Maren Morris. From there, Life Changes carves a path as wild and wide as his own career. There are coming-of-age country ballads, heartland rock & roll anthems, EDM-influenced pop tracks and R&B slow jams all wrapped together by the songwriting skills and elastic vocals of a frontman who's willing to shine a light on his own milestones and mistakes.
"I named the album Life Changes because my life has never changed this much in a short span of time," he says. "From seeing the success of a song like 'Die a Happy Man' to putting out my third album to going on my first headlining tour to having two children, both under two years old… I thought the title of the album was a good representation of what is happening in my life right now."