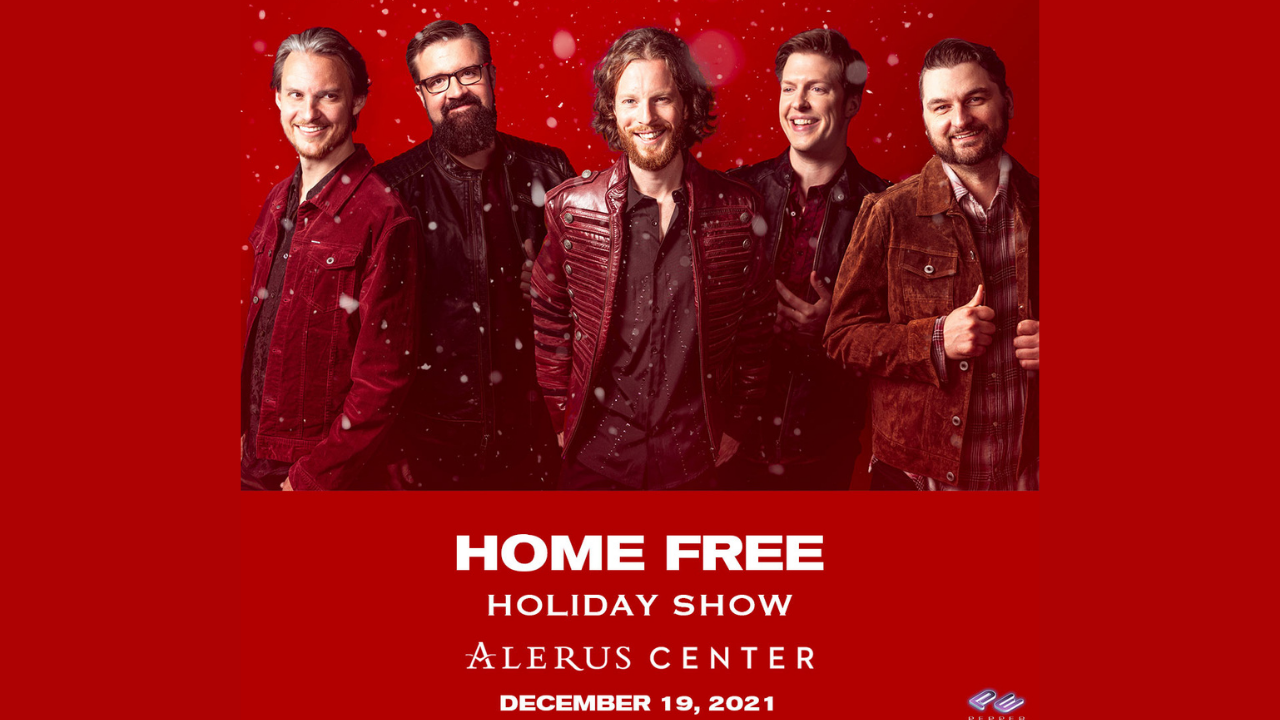 Home Free
Home Free
Event Information
UPDATE
The Home Free concert originally scheduled for Wednesday, June 9th, 202 has been rescheduled to Sunday. December 19. Please hold on to your tickets as they will be honored for the new date.
Refunds will no longer be available after 10 PM on August 14, 2020. Please contact the point of purchase if you have any questions or to request a refund on your purchase.
---
Home Free
In-country music, there are endless debates about what kind of instrumentation really defines the genre as it constantly updates itself and divides into traditional and contemporary factions. Home Free found an ingenious way to get around those kinds of arguments: just ditch the instrumentation altogether. Their five members are all about what has always inarguably been at the core of country music: the human voice.
That Home Free is country music's only real acappella group is a novelty that, on the radio or on record, might only occur to listeners after the fact, since arrangements that are so fully fleshed out — and we do mean fleshed out, as opposed to machined out — have a way of tricking the ear. In concert, of course, it's a different story: all at once, from the first row to last, jaws drop at the first sight of all those throats in action, followed by nodding, dancing, and even crying as the group's powerful musical storytelling unfolds.
Home Free are returning with their fourth studio album, Dive Bar Saints, and there are a lot of new wrinkles to their story. But that most critical element remains intact. Listening to the leadoff track, "Remember This," you might wonder if they've finally just given in and added instrumentation to their previously all-vocal catalog? Not to worry; that's just an optical illusion. "We're completely a cappella. At all times," Tim Foust assures us, laughing that the question still comes up. Foust is the bass player of the group… the bass voice player, that is. "Never say never," he adds, asked if they might ever consider giving Nashville's finest studio musicians some employment, "but that's what sets us apart. I mean, when we collaborated with Charlie Daniels, we let him play his fiddle, but that's about it."
Home Free's primary "platform" — very unofficially speaking — has been YouTube, where they've racked up a staggering 306 million views to date. The video success makes sense, apart from their canniness in choosing attention-getting covers: Home Free is a group that demands to be seen as well as heard, if only to prove anew each time that, yes, it's five humans doing this… not just "home free," but hands-free.
COVID-19

We have taken enhanced health and safety measures to protect our venue guests. However, there is an inherent risk of exposure to COVID-19 in any public place where people are present. COVID-19 is an extremely contagious disease that can lead to severe illness and death. According to the CDC, senior citizens and guests with underlying medical conditions are especially vulnerable. By entering the venue, you voluntarily assume all risks related to exposure to COVID-19, and Venue disclaims any and all liability related thereto.

In accordance with the guidance and recommendations set forth by the CDC and local health officials, we respectfully request that the following guests not attend tonight's event:

Guests who are feeling sick or experiencing cold or flu-like symptoms (including fever, cough and shortness of breath);
Guests who have been diagnosed with, or believe to have contracted, COVID-19, unless you have had no fever for 72 hours (without use of medicine) and 10 days have passed since symptoms first appeared;
Guests who have been in contact with an individual diagnosed with COVID-19 within the past 14 days; and
Guests who have traveled internationally in the past 14 days.

All patrons entering the venue are requested to wear a facial covering or mask and keep it on at all times while in the venue.