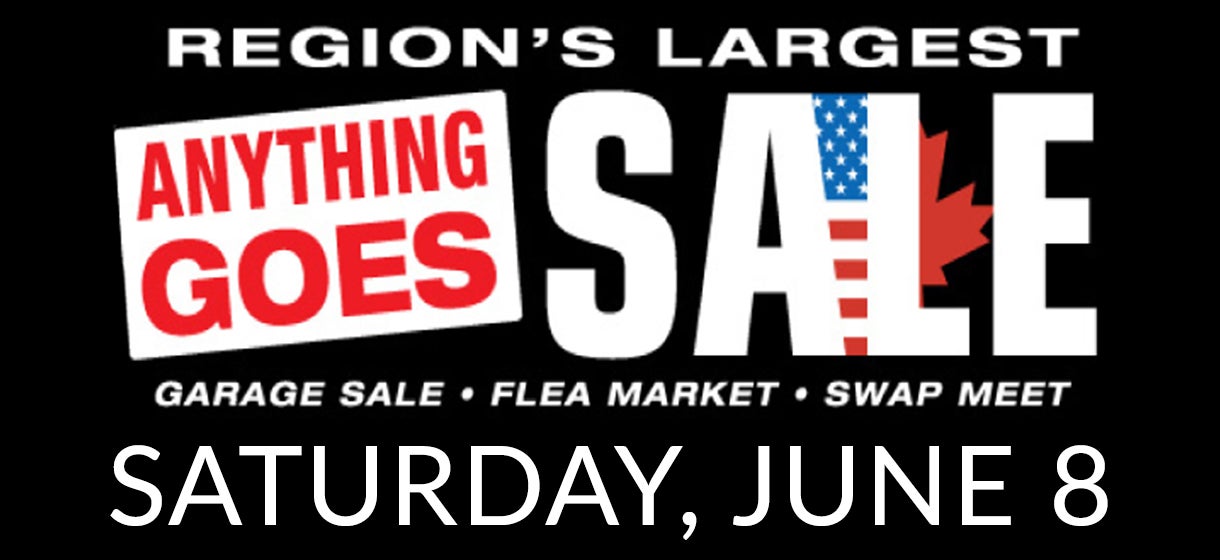 Anything Goes Sale
Anything Goes Sale
June

08

/ Saturday

7:00 AM

- 03:00 PM
Event Information
Join us on Saturday, June 8th from 7am to 3pm for the region's largest garage sale/flea market/swap meet. The sale is located inside the arena at Alerus Center.
Early Bird entry from 7:00am - 8:00am: $5
Regular admittance from 8:00am - 3:00pm: $2
Children under 12 are free.
Tickets available at the Alerus Center Box Office only.
Vendor Sign Up

Vendor FAQ

Load in times

Friday, June 7th from 9am to 6pm. Please use the overhead door located on the southeast side of the Alerus Center near Entrance 1. For large equipment, contact Alerus Center to arrange a time to load in. Booths are not pre-assigned; Alerus Center Staff will assign booths Friday, June 7th. Vendors must load-out by on Saturday.

Load in proceedure

10' x 10' booths are given out on a first come, first serve basis. All booths must be registered for and paid by June 5th. Each participant will be able to drive into the arena to unload.

Costs

$30/booth +$20 refundable deposit (returned when your space is cleared out at the end of the event). Come with 1 table and 2 chairs. Additional tables are $5 and should be reserved in advance. Vendors can purchase more than one booth - and they will be put next to each other.

Payment for booth space must be received in full prior to load-in. Payments are non-refundable.

Table Information

Each booth can hold 4 tables. Tables are 8 feet long by 30 inches wide and 29 inches tall.

Other

Alerus Center is not responsible for damaged, lost or stolen items.

No sale of food or beverage items, firearms, or hazardous materials will be permitted.

All sale items must comply with federal, state and local regulations as well as Alerus Center Policies and Procedures. We reserve the right to turn away vendors not in compliance with these rules. Contact the Alerus Center at 701-792-1200 with any questions.