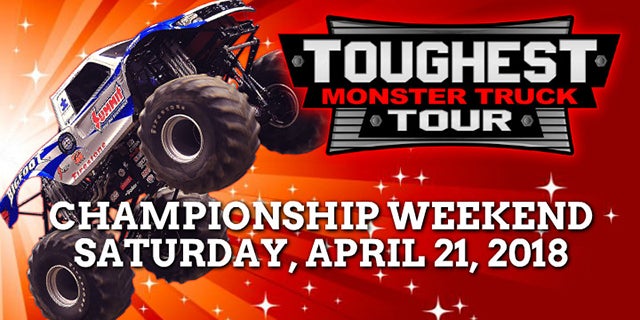 Toughest Monster Truck Tour - Championship Weekend
Toughest Monster Truck Tour - Championship Weekend
After an absence of several years, the Toughest Monster Truck Tour will return to Alerus Center on Saturday, April 21.
This is no regular Toughest Monster Truck Tour event. This event will be the final event of the 2018 Toughest Monster Truck Tour which means Alerus Center will be the place where it is determined WHO will be the 2018 Toughest Monster Truck. That's right, Grand Forks is the official location of the 2018 Toughest Monster Truck Tour Championship Weekend. In celebration, August 11 through September 3, select tickets will be $5 off and all tickets purchased will come with a free pit pass, regardless of price level.
Last year was the first time in more than five years that Bigfoot did not win the Tour Championship. That title went to Snake Bite, who made a huge comeback after several years off the circuit. Quad Chaos finished second, just one point behind Bigfoot's third place-so expect the competition to be spirited this year as the tension-and expectations-are running high after such a close finish in 2017.
All three of these trucks will be returning along with several others, plus some fun side acts.
In addition to the discounted tickets and free pit passes available through September 3, a limited amount of discounted family 4-packs will also available.
The Toughest Monster Truck Tour begins at 7pm on Saturday, April 21. The Pit Party, where fans can walk on the track, see the trucks up close and meet the drivers, will take place from 5-6pm. Tickets are available at the Alerus Center Box Office, online at www.ticketmaster.com or by phone at 800-745-3000. Groups of 10 or more can call the Alerus Center Groups Sales Office to inquire about special discounts. All seats are reserved. Additional fees may apply.
For information and reviews about the Toughest Monster Truck Tour, visit the Toughest Monster Truck Tour Facebook page or or www.toughestmonstertrucks.com.