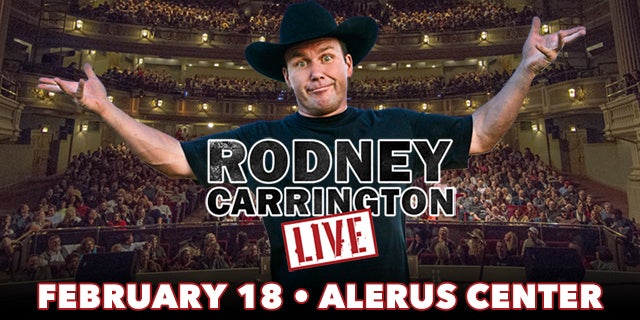 Rodney Carrington Live
Rodney Carrington Live
Event Information
Alerus Center is pleased to announce that Rodney Carrington is coming to Grand Forks on Sunday, February 18. This show is for mature audiences only.

Tickets are on sale now and available at the Alerus Center Box Office, Ticketmaster.com, or by calling 800-745-3000.

Rodney Carrington is a multi-talented comedian, actor, singer and writer who recorded eight major record label comedy albums, which have sold millions of copies. Rodney then released three new albums on his own record label called Laughter's Good Records. An album of new songs and material entitled Laughter's Good debuted at Number One on the Overall Comedy Charts. The same week, the re-release of Rodney Carrington Live, C'mon Laugh You Bastards debuted at Number Two on the Overall Comedy Charts. He then went back into the studio to record The Hits which also reached number one on the comedy charts.

Rodney's popularity derives, in large part, from his connection with his audience, both at his live shows, and through social media. By the looks of his schedule in 2017, he shows no signs of slowing down!
Parking for this event will be $10. Cash only.