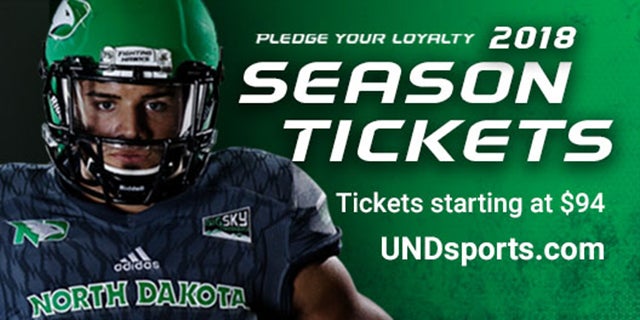 2018 North Dakota Football
Aug

30

-

Nov

10

, 2018

$94
2018 North Dakota Football
2018 North Dakota Football season tickets are now on sale! Live for game day every Saturday in 2018 and get your football season tickets today!

Season ticket prices start at $94 per seat for the season.

All season-ticket holders from 2017 will receive their 2018 renewal packet in mid-April, but can renew their football season tickets on their My North Dakota account at any time.

Fans can reserve their seats for the 2018 home slate by contacting the Ralph Engelstad Arena Box Office at 701-777-4689 or through online purchase here.

2018 North Dakota Football Schedule
Thurs., Aug. 30 vs. Mississippi Valley
Sat., Sept. 8 at Washington
Sat., Sept. 15 at Sam Houston State
Sat., Sept. 22 vs. Idaho State (53rd annual Potato Bowl/102nd Annual Homecoming)
Sat., Sept. 29 at Northern Colorado
Sat., Oct. 13 vs. Montana (Family Weekend/Green Out)
Sat., Oct. 20 at Sacramento State
Sat., Oct. 27th vs. Weber State (Military Appreciation/Band Day)
Sat., Nov. 03 at Idaho
Sat. Nov. 10 vs. Portland State (Senior Recognition Day)
Sat., Nov. 17 at Northern Arizona
Home games listed in bold
Kickoff times will be released at a later date


Showings
Thursday, August 30, 2018

TBA

Saturday, September 22, 2018

TBA

Saturday, October 13, 2018

TBA

Saturday, October 27, 2018

TBA

Saturday, November 10, 2018

TBA